The Foster Meadow Restoration Project encompasses 27 acres of meadow along the Middle Fork Cosumnes River on Eldorado National Forest.
Foster Meadow is located in the headwater reach of the Middle Fork Cosumnes River at an elevation of 7,200 -6,800 feet. The total watershed area to the downstream end of the project reach is 1.5 square miles. As a west-side Sierra basin, the upper Cosumnes River receives abundant precipitation, mostly in the form of snow. The nearby Podesta snow course (7,200') has an average April 1 snow water content of 44.8 inches. This provides an extended snowmelt runoff regime that supported a healthy stringer meadow network in the reach.
Foster Meadow was identified as a target meadow for restoration in the Amador Calaveras Consensus Group (ACCG) Collaborative Forest Landscape Restoration (CFLR) Project. The Amador Ranger District, El Dorado National Forest and project stakeholders were seeking to restore the natural hydrologic functions of the Foster Meadow system to provide improved water quality, timing of flows and enhanced aquatic and terrestrial habitats onsite and downstream. Attendant with that objective was to remove barriers to aquatic organism passage (AOP) in this reach of the Middle Fork Cosumnes River. The Project was implemented in 2020, and encompassed restoring three distinct meadow segments and rectifying the AOP barrier at the Forest Highway 54 road crossing.
Forest Highway 54 crossing
The design for aquatic organism passage at the Forest Highway 54 crossing used a rock/soil fill with vegetation transplants to raise both the channel and floodplain to match the existing culvert invert/floodplain elevation. This required approximately 500 cubic yds of 2.0-foot minus rock and soil. To reduce the backwater effect of high flow in a single culvert, additional culverts set at floodplain elevation were installed in the road crossing with invert elevations 1 foot above the invert elevation of the channel culvert. These floodplain culverts are 'squash' type, 30-inch diameter set at as close an interval practicable across the floodplain. All road prism/culvert modification work was closely coordinated with, or engineered by, the Forest engineering staff.
Meadow Components
The design concept for degraded meadows in the Foster Meadow project areas was to implement near-complete gully fill. The principal function of the borrow ponds are to provide native fill material for plug construction. Since the ponds will fill with groundwater and maintain ponded water year-round, habitat features and diversity are incorporated into the construction. These include varying water depths, islands, pennisulas, basking logs, etc., which are determined as fill needs are met. Large woody debris (LWD) was added to some of intervening sections of the reach, this will aid managment for long-term recruitment and can help prevent any incipient incision from developing.
For the two pocket meadows, approximately 7 trees (red fir/lodgepole) were incorporated into the plug fill surfaces and the remnant channel for velocity reduction. This borrow pond provided an off-channel, in-forest, perennial surface water habitat feature. The majority of the earth fill for the Pocket Meadows were be generated from cutting terrace features down to floodplain elevation. This provided more meadow area and floodplain extent, but not open water habitat.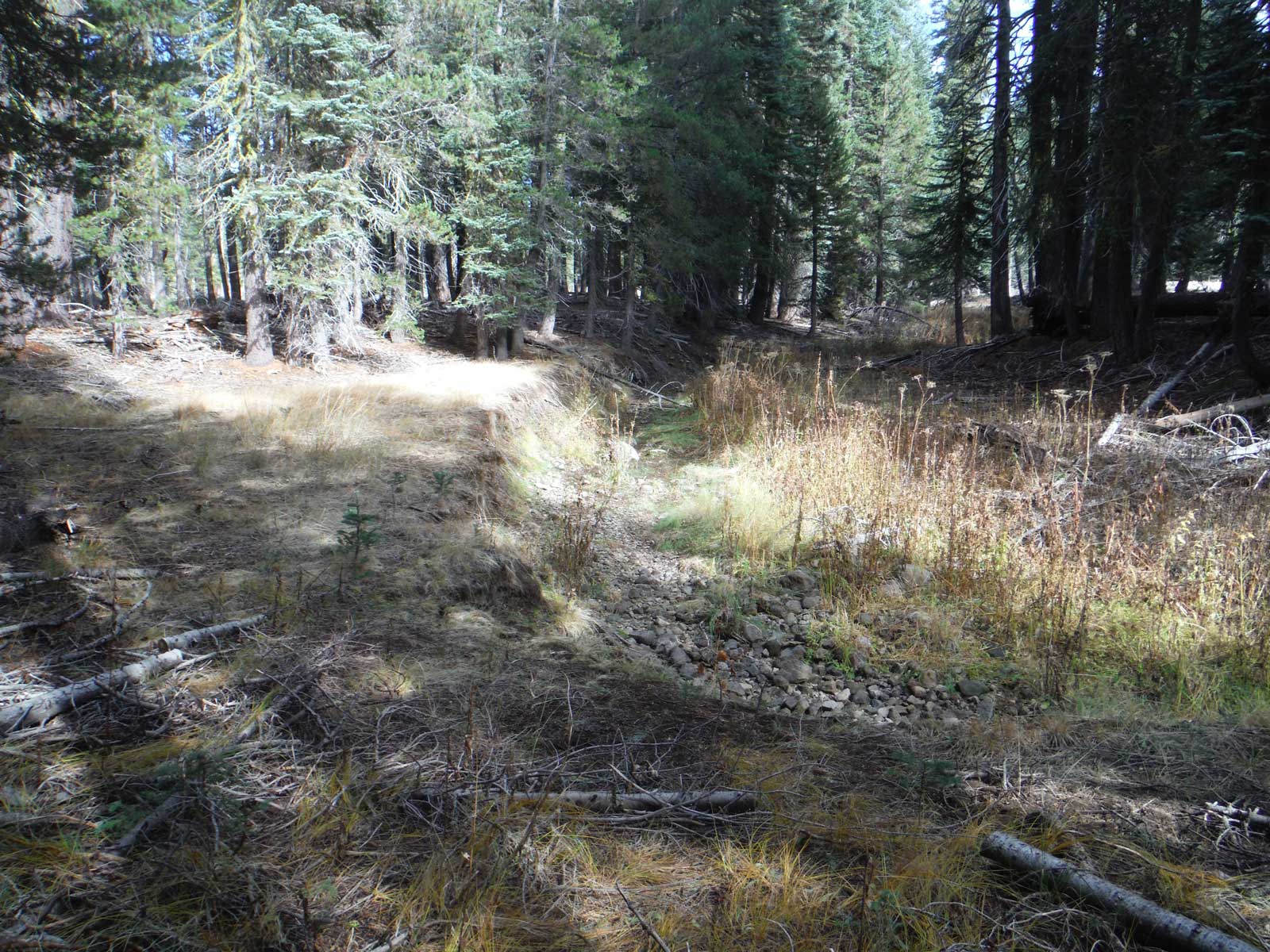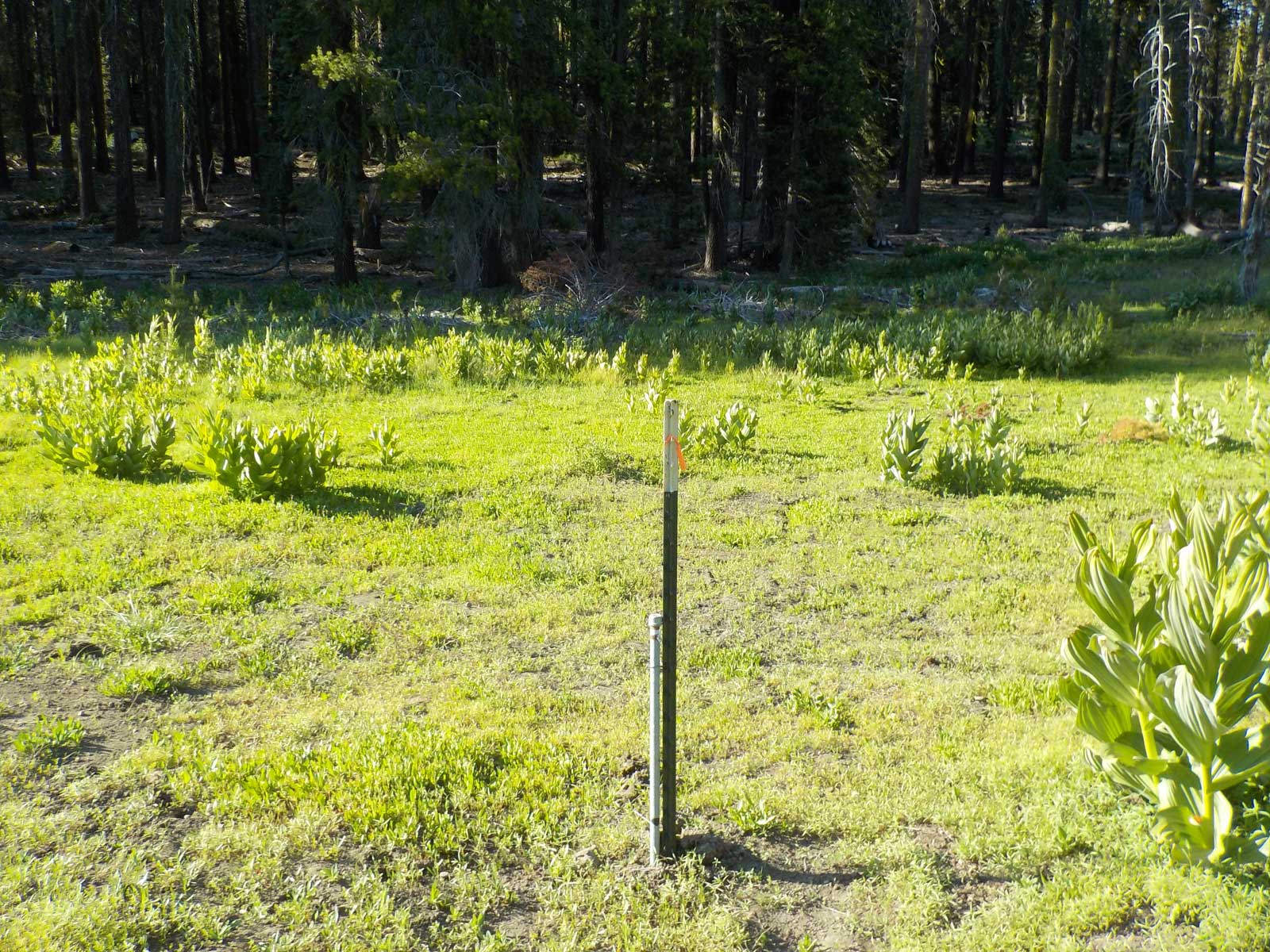 Hydrology Monitoring
The pre-project water years 2017 to 2020 encompassed both very wet and abnormally dry precipitation regimes, which is typical for California, and one of the principal reasons these meadows and their hydrologic buffering functions are so important. In the absence of an on-site climate station, data from nearby climate stations will be used, along with the Northern Sierra 8-Station and Central Sierra 5-Station indices, to characterize each annual hydrologic year in the benefit validation period. The Podesta Snow Course is only one mile from the project, with an annual average April 1 snow water content of 44.8 inches.
Plumas Corporation staff installed four (4) groundwater wells, suitable for manually measuring each month when accessible. To more accurately attribute hydrologic change to the restoration work, ground and surface waters are sampled and analyzed for stable isotopes and conductivity. Additionally, a continuous recording stream gage has been operated at the bottom of the Foster Meadow Project since 2017. Plumas Corporation staff operate and maintain all of these hydrologic measurement devices.