The Tásmam Koyóm (Humbug Valley) Yellow Creek Meadow Restoration Project was constructed in 2013
The Yellow Creek project began in earnest in 2006, when many of the stakeholders in Tasmam Koyom requested Plumas Corporation to collect data and develop restoration alternatives. By early 2008, using data and analysis, a suite of restoration alternatives were being considered under the auspices of the Pacific Gas & Electric (PG&E) Ecological Resources Committee (ERC) and its Humbug Valley Subcommittee. Ultimately, after several years of discussion, additional data collection, and mapping, it was decided to pursue restoration that would reconnect the channel to its historic floodplain. To accomplish that objective, the pond and plug or partial fill methodology was chosen. Due to concerns about extant whirling disease within the channel and the potential for pond habitat connected to the active channel becoming reservoirs for increasing and spreading the disease, the design was significantly modified to disconnect all ponds from the restored active stream channel. In addition, project partners (USDA Forest Service, PG&E, and University of California, Davis, and California Department of Fish and Wildlife) conducted a whirling disease study throughout Tasmam Koyom in 2011-2012. The results of the study were published in 2013 and can be found at link below.
The Project was delayed in 2012 due to the Chips Fire, and a high-water event in December 2012 moved the main headcut upstream to the confluence of the north tributary at the base of the fan, resulting in a decision to forego two upstream plugs that were intended to stabilize the main headcut, and to forego treatment of the tributary. Ultimately, the Project restored the hydrologic function of 0.65 miles of Yellow Creek by reconnecting it with 71 acres of its meadow floodplain. California had been in a drought for the last five years (2009-2013). Low precipitation levels throughout the Feather River Watershed affected hydrologic conditions. Despite this fact, pre- and post-project monitoring of avian species richness and abundance and storm event turbidity demonstrated improvements within three years after restoration.
Tásmam Koyóm is a culturally significant place for the Mountain Maidu. A significant number of cultural sites were located in close proximity to the project area prior to project construction (McCombs, 2008, 2009). A consulting archaeologist and local Maidu tribal monitors were contracted to monitor all construction activities to ensure protection of existing sites, report and evaluate any new materials uncovered during construction, and ensure appropriate disposition of any recovered cultural materials.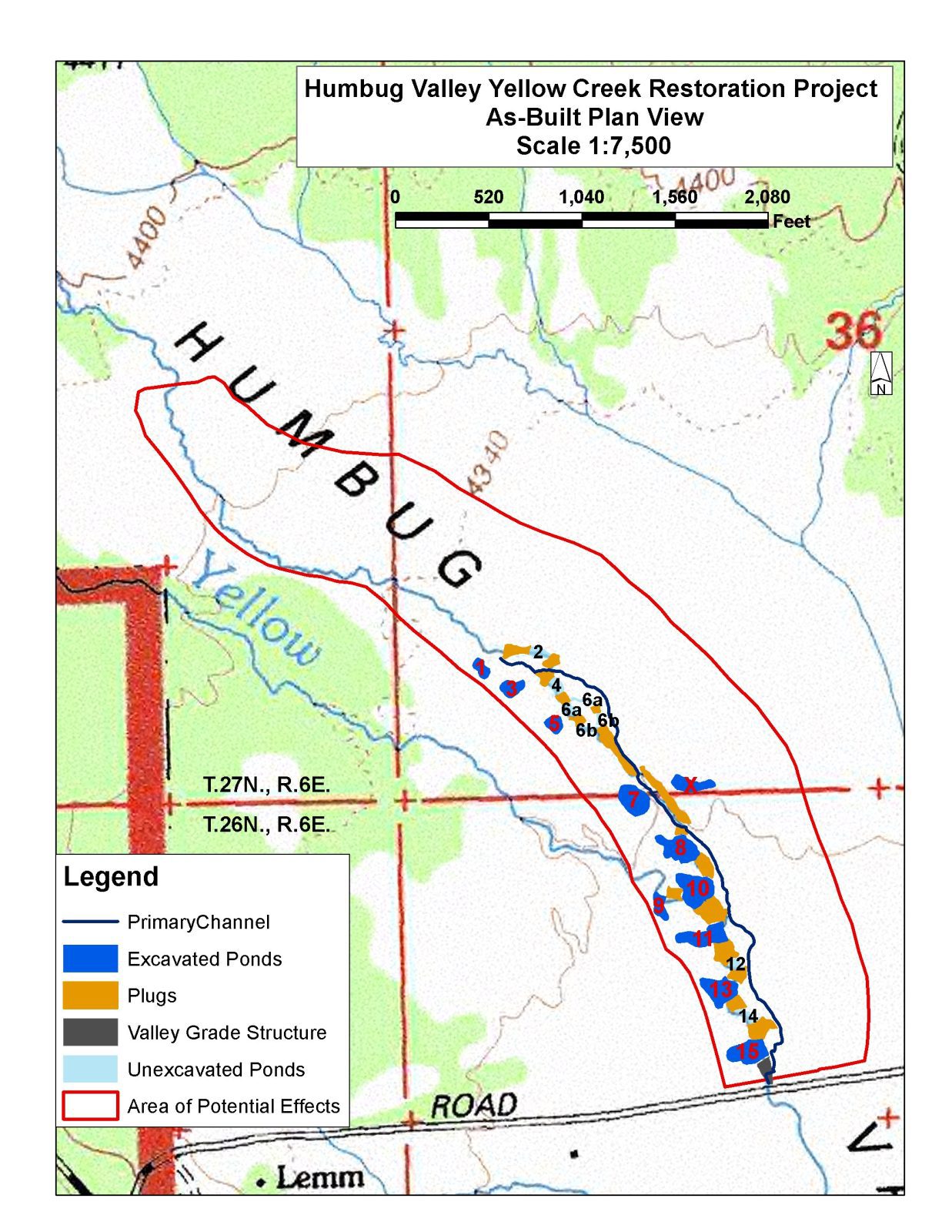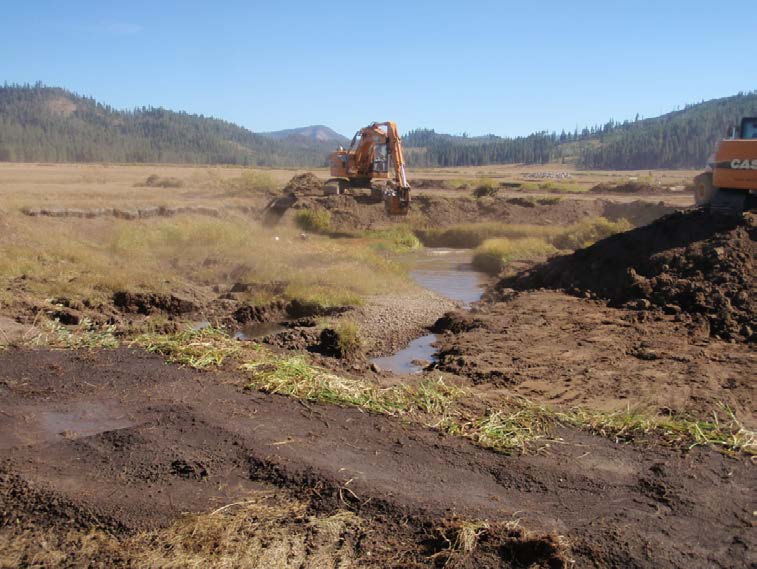 Fishery Monitoring
Pre-Project
A pre-project fish population electroshock survey was conducted on September 3, 2013 within a 300-foot sample reach of the project area, downstream of the active construction. Natural Resources Conservation Service staff assisted with the fish population survey. Three brown trout (5-6") were captured in this survey. Channel habitat within the survey reach was approximately a 1.3:1 ratio of pool to riffle habitat, although habitat quality was poor with shallow pools, no undercut banks, and little vegetative cover.
Post-Project
A post-project electroshock fish population survey was conducted on September 27, 2016 within a 300-foot sample reach of the "new" remnant channel. Selection of the post-project sample reach was based on trying to replicate the pre-project reach habitat attributes (i.e. a pool: riffle ratio of 1.3:1). A total of 20 fish were captured and measured, with 17 identified as brook trout and 3 brown trout. The average length of brook trout captured was 6 inches and the average length of brown trout was 9 inches. In addition, in the pool immediately upstream of the survey reach over a dozen brook trout were visually observed; one fish was estimated to be 12 inches in length! Fish population numbers post-project were three times those observed in the pre-project survey; with the average fish length 1 to 3 inches longer, despite fewer pools to riffles (0.85:1 ratio) in the post-project survey reach. However, the quality of habitat was notably better than pre-project conditions with deeper pools, undercut banks, and dense vegetative cover (sedges and a few willows) along the banks.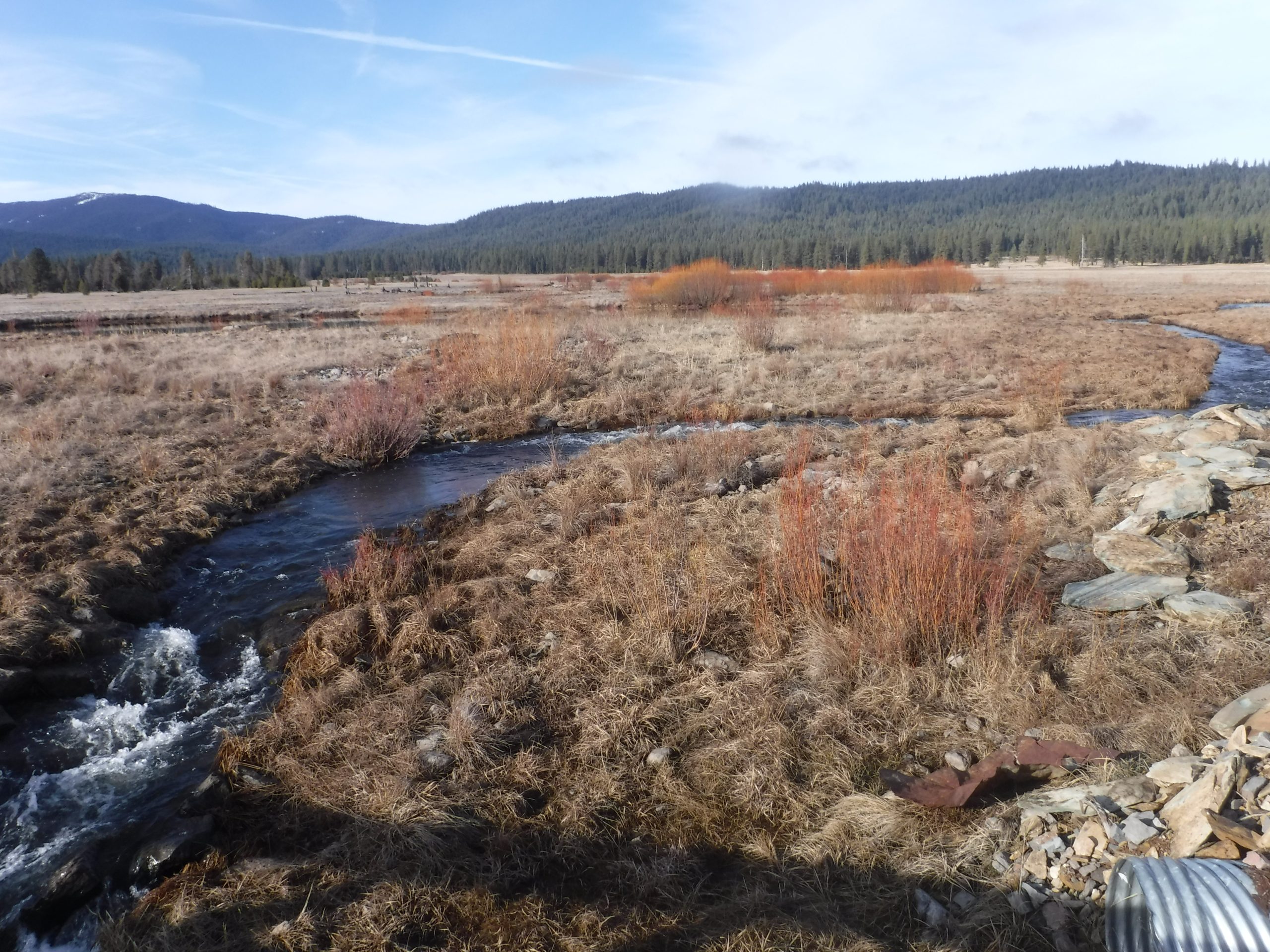 Avian Monitoring
Avian Monitoring- Our partner, Point Blue, used a suite of previously identified meadow bird focal species to evaluate habitat quality for meadow birds at long-term monitoring sites and at sites recently restored, including Yellow Creek. In comparing focal species metrics across 22 meadow sites, they found little change in rankings between 2011 and 2014 for sites that had not been subject to restoration.
Their results provide evidence of the benefits to meadow birds from pond and plug restoration. They found a positive linear relationship with time since restoration and focal species abundance and richness for restoration sites up to 12 years old. Similarly, when they compared all sites that had been restored to reference sites, they found restored sites supported more species and higher abundance.